Dear friends and family,
I have been promising to write and tell you about what we did this May & June. Here we go. We were invited to the Mendocino Film Festival in California for two special screenings of HARRY&SNOWMAN.
It was a magnificent drive from San Francisco and the Golden Gate Bridge along the Northern California coastline. What began as a three to four hour tour became a seven-hour drive of one of the most beautiful roads in the world. Cell phones be gone, we were remote and happy to be unhooked!
We arrived in Mendocino on a Friday afternoon. I am including here an album of photographs that will help you picture the story of our travels.
On Saturday May 30th in Fort Bragg, California the 2015 Tenth Anniversary Mendocino Film Festival proudly presented HARRY&SNOWMAN hosted by theater owners Max and Laurie of Coast Cinema. I found this review of their movie house: "Best little theater around! Generations of family film enthusiasts owning and running this little gem tucked away on the coast. Great movies, yummy popcorn and always very clean."
We the film makers want to thank everyone involved for sponsoring our film and the Film Festival. It was such a big audience for HARRY&SNOWMAN in Ft. Bragg that our little rental car was parked blocks away from the theater because so many people turned out for the movie! After evenings of fun at The Pub in Mendocino ( wow! ) we were happy to return to our amazing accommodations at the Searock Inn owned and operated by Susie and Andy Plocher. Thank you both for being gracious sponsors of the festival, your generosity and for the wonderful stay in your coastal hotel.
On Sunday morning May 31st the weather was stunning. We drove through the winding mountains toward a larger town called Willits. Here at the Ridgewood Ranch we gathered together to honor another great horse named Seabiscuit. This is why we were invited!
"We mark the 75th Anniversary of Seabiscuit's historic win at Santa Anita and the founding of the Noya Theater with the launch of our Seabiscuit Legacy Film Series, highlighting horse stories that embody the spirit of hope that Seabiscuit instilled in his fans and in generations since."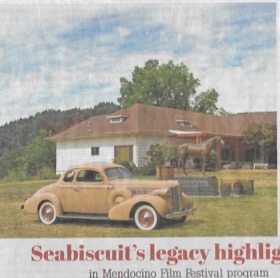 Following these memorable events we enjoyed a 1940's themed reception at the historic Howard House on Ridgewood Ranch. At 4 pm HARRY & SNOWMAN was screened downtown at the Noya Theatre. Our hostesses throughout the day were Jacqueline Cooper and Cynthia Ariosta (a true New Yorker). We want to thank the theater owners Jeff and Lois for opening their doors and the festival sponsors Mendocino Village Veterinary for their participation and enthusiasm for our film in their town.
For me, the most exciting times during both the screenings of the film were seeing the reactions of our audiences and the Question and Answer's segments following the film. I received this email about a viewer's experience that day. Thank you, John Osborne for giving me my first "review."
As I was writing the last drafts of this recollection in my journal, I received this news from Ridgewood. "It has been a sad day on Ridgewood Ranch having to put to rest one of our Seabiscuit descendants, Washoe Valley Sal 'Sally'. We received her as an older broodmare in 2006. She was rescued from slaughter thanks to the benevolence of Pam Forgash of Janesville, Ca. who operates a Thoroughbred rescue operation. Yet she produced a beautiful filly for us in 2009, Sea of Tiberias of the Secretariat line. 'Sally' was so plagued by arthritis stemming from early and vigorous race training, we decided to retire her in 2010 and to let her live out her golden years at Ridgewood. She was a wonderful pasture mate to our other horses and would often 'adopt' weanlings as her own. When the pain was no longer manageable and her legs would no longer serve, we decided to do the humane thing and end her suffering. She was laid to rest today at Ridgewood, next to our beloved Lil'Sea, another descendent of Seabiscuit's. It has been both a privilege and a blessing to be able to care for her, yet another one of God's sweetest creatures." writes Jacqueline Cooper.
Quote by C.S. Howard on the bronze statue of Seabiscuit:
"Biscuit's courage, honesty and physical prowess definitely place him among the thoroughbred immortals of turf history. He had intelligence and understanding almost spiritual in quality."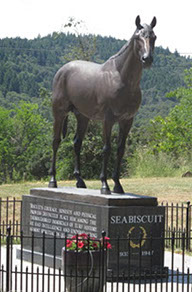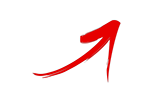 Visit
Photo
Gallery
So, dear friends and family I hope you can see the common bonds shared by the stories of Seabiscuit and SNOWMAN about caring for people and for animals. After driving away from Mendocino on Monday morning, headed to a screening in Hollywood, I sat still for a long time and reflected on all the wonderful people that we had met, talked to and laughed with. I had always dreamed about making a film that you would gather around the water cooler to talk about - HARRY& SNOWMAN has accomplished that and more. Watching the film together with old friends and new is making memories. We could not be any luckier than that ! We hope the film will come soon to a theater near you.
Here's the contact information of a new acquaintance that we met during our trip that arranges travel in this remarkable area. The dates of the 2016 Mendocino Film Festival will be June 2-5. Please don't hesitate to call on her with questions for arrangements.
Jenny Senter, Travel Counselor
Celtic Heritage Destinations
www.celticheritagedestinations.com
jsenter@celticheritagedestinations.com
Registered Seller of Travel in California Permit #2106167-40
I had fun writing this. Thank you to everyone that helped. I hope you all stay in touch with me and with HARRY&SNOWMAN at www.harryandsnowman.com. We have a monthly newsletter, so sign up to receive all the latest news.

All the best,
Karin Reid Offield
P.S. – Any errors, please bring to my attention. I will fix them straight away.